Barry Stein
Posts by Barry Stein
Jul 24, 2014
Decoding Noncoding DNA's Role in Colorectal Cancer
Scientists have been alert to genetic drivers of cancer that are embedded in the transcriptome, which consists of DNA's coding regions. Beyond the transcriptome, in the wider genome, lurk additional drivers. They are, most likely, elements that regulate gene expression—or rather, being faulty, dysregulate gene expression.

Expanding the search for cancer drivers into the wider genome, effectively sifting through noncoding stretches of DNA, a team of scientists centered at the University of Geneva (UNIGE) performed an RNA sequencing analysis of 103 matched tumor and normal colon mucosa colorectal cancer (CRC) samples. According to the scientists, theirs was the first study of this scale to examine the noncoding genome of cancer patients.

The UNIGE team and its collaborators described the study July 23 in Nature, in an article entitled, "Putative cis-regulatory drivers in colorectal cancer." The scientists reported that they were able to identify two kinds of noncoding mutations that have an impact on the development of colorectal cancer.

They found hereditary regulatory variants that are not active in healthy tissue, but are activated in tumors and seem to contribute to cancer progression. In addition, they identified effects of acquired mutations on the regulation of gene expression that affect the genesis and progression of colorectal tumors.

In particular, the researchers detected 71 genes with significantly higher allele-specific expression (ASE) somatic event rates, which they defined as genes with allelic dysregulation (GADs), as well as 376 genes with tumor-specific germline cis-regulatory variants.

"Both categories demonstrate characteristics that support their role as putative cancer drivers," wrote the study's authors. "This gives us access to putative noncoding somatic and germline CRC drivers on an unprecedented scale."

"In addition, tumor-specific cis-eQTLs [expression quantitative trait loci] reveal a new category of variants that are likely to contribute to cancer besides predisposing alleles and somatic mutations," the authors continued. "It is likely that some of the predisposing variants discovered via GWAS are in fact germline drivers."

The head of the research team, Emmanouil Dermitzakis, Ph.D., Louis-Jeantet Professor of Genetics in UNIGE's faculty of medicine, noted that the methodology used here to evaluate colorectal cancer could also be applied "to understand the genetic basis of all sorts of cancers."

"The elements responsible for the development and progression of cancers located in the noncoding genome are as important as those found in the coding regions of the genome," added Halit Ongen, D.Phil., a postdoctoral researcher at UNIGE and the lead author of the study. "Therefore, analyzing genetic factors in our whole genome, and not only in the coding regions as it was done before, gives us a much more comprehensive knowledge of the genetics behind colorectal cancer."
Researchers report first large-scale integrated proteomic and genomic analysis of a human cancer: Identification of new molecular features of colorectal cancer
Investigators who analyzed 95 human colorectal tumor samples have determined how gene alterations identified in previous analyses of the same samples are expressed at the protein level. The integration of proteomic and genomic data, or proteogenomics, provides a more comprehensive view of the biological features that drive cancer than genomic analysis alone and may help identify the most important targets for cancer detection and intervention. The results of this study appeared online July 20, 2014, in Nature.
The colorectal study produced several key findings:
Measurements of messenger RNA abundance did not reliably predict protein abundance. The investigators were not surprised by this discordance, because many regulatory controls lie between RNA and protein expression. However, it did demonstrate that RNA analyses do not necessarily give a correct indication of protein levels.
Most of the focal amplifications (increased amounts of certain chromosome segments) observed in the earlier genomic analyses of the same tumors did not result in corresponding elevations in protein level. Proteomic analyses identified a few amplifications that had dramatic effects on protein levels and may represent potentially important targets for diagnosis or therapeutic intervention.
Proteomics identified five colon cancer subtypes, including classifications that could not be derived from genomic data. Protein expression signatures for one of the subtypes indicated molecular characteristics associated with highly aggressive tumors with poor clinical outcome.
These findings, by Clinical Proteomic Tumor Analysis Consortium (CPTAC) investigators, including Henry Rodriguez, Ph.D., director of the Office of Cancer Clinical Proteomics Research, NCI, and Daniel C. Liebler, Ph.D., Vanderbilt University School of Medicine, Nashville, were made possible because of genomic analyses that were done on the same tumors in 2012 by The Cancer Genome Atlas (TCGA) Research Network. The CPTAC study provided a clear demonstration of how proteomics can be used to help understand how genomic abnormalities drive cancer.
Redefining Adjuvant Therapy for Stage III Resected Colon Cancer
Name of the Trial
Oxaliplatin, Leucovorin Calcium, and Fluorouracil with or without Celecoxib in Treating Patients with Stage III Colon Cancer Previously Treated with Surgery (CALGB-80702). See the protocol summary.
Principal Investigator
Dr. Jeffrey A. Meyerhardt, Alliance for Clinical Trials in Oncology
Why This Trial Is Important
Despite improvements in treatment, approximately 30 percent of patients with resected (surgically removed) stage III colon cancer still experience arecurrence. Accordingly, clinical trials of new interventions are needed to find better ways of preventing the cancer from returning. In this trial, patients with resected stage III colon cancer are being randomly assigned to receive a type of chemotherapy called FOLFOX for either 3 months or 6 months and to take either an aspirin-like pill called celecoxib (Celebrex®) or a matching placebo pill for 3 years.
"We're really trying to answer two questions with this study: first, does adding celecoxib to chemotherapy following surgery provide any benefit over the chemotherapy alone, and second, does a shorter course of FOLFOX work as well as the standard 6-month course?" said Dr. Meyerhardt, the study's lead investigator.
Resection of the tumor is the cornerstone of treatment for colon cancer that has not spread to other parts of the body. For early-stage disease, surgery alone may be sufficient to eradicate the cancer, but for more advanced stage III colon cancer, the use of chemotherapy after surgery (adjuvant chemotherapy) may help prevent or delay the return of cancer and prolong the lives of patients.
Currently, a 6-month course of adjuvant FOLFOX is considered standard treatment for resected stage III colon cancer. FOLFOX combines fluorouracil and leucovorin, drugs first approved decades ago, withoxaliplatin, a relatively newer platinum-based drug. Clinical trials have demonstrated that this combination extends disease-free survival and overall survival better than adjuvant fluorouracil and leucovorin alone.
Unfortunately, many drugs, including the ones used in this trial, cause side effects. In some cases, these side effects can be severe. One of the most common and serious side effects associated with oxaliplatin is peripheral neuropathy, an often painful "tingling" or numbing sensation in the feet or hands. The likelihood of developing peripheral neuropathy increases with each dose of FOLFOX. This and other side effects can be so severe that patients stop treatment before completing the full 6 months of chemotherapy.
In an effort to limit the toxicity associated with adjuvant FOLFOX, this trial will determine whether a 3-month course of treatment is as good as a 6-month course in delaying or preventing a recurrence of colon cancer. In addition, patients will be monitored to determine whether the shorter course of treatment reduces side effects such as peripheral neuropathy.
This trial also tests celecoxib's ability to help prevent or delay cancer recurrence. Celecoxib is a nonsteroidal anti-inflammatory drug (NSAID) that blocks the activity of a protein thought to play a role in cancer growth. A number of large observational studies have shown that people who regularly take aspirin or other NSAIDs may be at reduced risk of developing colon cancer. These findings have led to studies of aspirin and NSAIDs as prevention agents for colon cancer.
The NCI-sponsored Adenoma Prevention with Celecoxib (APC) trial, in particular, tested celecoxib's ability to prevent colon polyps in people who had them removed during a previous colonoscopy and found that the drug did reduce the recurrence of polyps. Most, if not all, cases of colorectal cancer begin as polyps in the colon or rectum. These findings encouraged researchers to test celecoxib as an adjuvant therapy for resected colon cancer.
However, cardiac toxicity is a concern with all NSAIDS, including celecoxib. Previous studies have identified a daily dose of 400 milligrams as the safest dose for celecoxib, and doctors have learned a great deal about which patients are at greater risk of heart complications. This trial is recruiting patients who will be at the least risk for cardiac problems and is using the safest dosage of celecoxib.
"For celecoxib to be incorporated into clinical practice for colon cancer, we need to have a randomized controlled trial to make sure there aren't other factors leading to the associations we've observed," said Dr. Meyerhardt.
"We've enrolled 1,700 patients since 2010 and we haven't seen any disturbing trends with either cardiac toxicity or with the shorter course of chemotherapy," he explained. "So we're hopeful that we can reach our goal of 2,500 patients in order to definitively settle these questions."
For More Information
See the lists of eligibility criteria and trial contact information or call the NCI's Cancer Information Service at 1-800-4-CANCER (1-800-422-6237). The toll-free call is confidential.
The Ottawa Hospital is hoping a new diagnostic centre for identifying cancers that could be treated through less invasive means will be open by the fall.
The hospital says it has raised half the $3 million it needs to open its own Molecular Oncology Diagnostics Laboratory.
Currently cancer patients in Ottawa who want to know if their particular disease could be treated with a targeted therapy instead of a one-size-fits all treatment like chemotherapy have to wait months before their samples can be assessed at labs in Toronto.
The Ottawa Hospital, which treated 24,000 cancer patients last year, said having a lab here in the city could cut the wait time for results to days instead of months.
The head of the new lab, Dr. Bryan Lo, said targeted treatments, if available, are far preferable to other options.
"When a cancer is discovered we'll really be characterizing genetically this cancer to try to determine if we can apply some of these newer targeted therapies. Therapies that are much less toxic and with fewer side effects," said Lo.
Jenn Miriguay, 37, has been living with cancer for five years and has gone through an arsenal of treatments, including chemotherapy, and lived through the side effects.
"It's an all-hazards approach, you throw everything at it that you can and hope and pray that it works," she said.
Dr. Brian Lo said targeted treatments can be less toxic than broad-spectrum treatments such as chemotherapy. (CBC)
She said the new diagnosis centre has raised her hopes there will be an alternative way to treat her disease.
"The kids aren't going to have a grumpy mommy all the time, my husband's going to have a wife who wants to actively participate in life," she said.
The clinic, when it opens, will focus on analyzing samples from patients with breast, lung, melanoma and colorectal cancers, the four most common types of cancers for which targeted therapies are available.
The hospital hopes within a year of opening it will then be able to accept samples from all cancer patients.
Provinces taking too long to approve potentially life-saving cancer drugs: study
Author of the study, Nigel Rawson says while the organization is doing its job, provinces are not required to take up the recommendations.
Published Thursday, July 17, 2014 10:02AM EDT
Last Updated Thursday, July 17, 2014 10:44AM EDT
Canada's two-tiered process of approving potentially life-saving oncology drugs is preventing cancer patients in some provinces from accessing medication that's readily available in other parts of the country, according to a new study.
The study, released by conservative think-tank Fraser Institute on Thursday, looks at the effectiveness of the pan-Canadian Oncology Drug Review (pCODR), which was established in 2010 to recommend new cancer drugs to all the provinces and territories, except Quebec.
While pCODR recommends drugs for approval, provinces are not required to accept their recommendations. The result is certain cancer drugs are covered by provincial health care plans in some provinces, but not others.
"For negative recommendations, the provinces generally agree. For recommendations that are favourable, for provinces it's sort of a 'maybe,' or whenever (the provinces) can actually afford to fund these drugs," study author Nigel Rawson told CTV's Canada AM on Thursday.
Rawson said, in many cases, the key factor keeping drugs from being approved is cost.
"They are expensive because they are (used) for difficult cancers or cancers that are late-stage," he said. "There are often not a lot of patients projected for these drugs, and they take a long while to develop."
The study also found that, while the pCODR's aims to take between five and eight months to review a drug, some reviews take up to 10 months.  It could then take a province up to a year to conduct their own review of the drug before deciding whether it will be covered.
The average time between a pCODR recommendation and provincial approval is the longest in Newfoundland and Labrador, where it was measured at 366 days. The average time spans in the other provinces:
New Brunswick, 339 days
Prince Edward Island, 309 days
Manitoba, 249 days
Nova Scotia, 218 days
British Columbia, 197 days
Alberta, 183 days
Saskatchewan, 154 days
Ontario, 150 days
"A lot of these patients, they're projected life expectancy isn't too great," Rawson pointed out.
The study referenced the struggle of an Ontario mother suffering from late-stage brain cancer who lobbied the provincial government to fund a cancer drug that could have prolonged her life.
Kimm Fletcher, a 41-year-old mother of two, went public with her fight to have the province help cover the cost of Avastin — a cancer drug that's covered for brain cancer treatment in Manitoba, British Columbia and Saskatchewan.
In Ontario, however, the drug is only covered for patients with colon cancer.
Fletcher died of cancer earlier this year.
Rawson said many cancer patients are forced to turn to donations from family and friends to pay for unfunded drugs, while others forego the treatment all together.
The study recommends some ways to improve the current system.
Rawson recommends that provinces make a commitment to accept a "reasonable proportion" of these drugs.
"The pCODR has provided positive recommendations for just over 80 per cent of these products," he said. "It would be appropriate, in my opinion, for the provinces to make a commitment to take a high proportion of these products within a reasonable amount of time — like 120 days."
Rawson added that the drug approval process in Canada is fragmented, as Ottawa is responsible for looking at the safety and efficacy of the drug, while the provinces look at the drug's cost-effectiveness and makes the ultimate decision on whether it will be funded.
"The alternative is to take a national approach to providing funding for these drugs," he said. "That's more ideal, but more difficult."
In a statement to CTV News, the pCODR says it welcomes the Fraser Institute assessment.
Read more: http://www.ctvnews.ca/health/provinces-taking-too-long-to-approve-potentially-life-saving-cancer-drugs-study-1.1918021#ixzz387GMeJjt
Study Links Heavy Use of Antibiotics To Risk for Colorectal Cancer
by Kate O'Rourke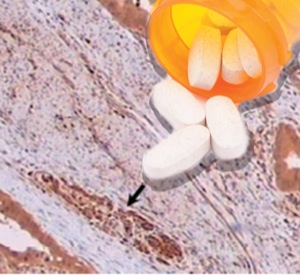 Chicago—The use of certain antibiotics is associated with an increased risk for colorectal cancer, according to a case–control study involving roughly 100,000 patients.
Antibiotics may reduce overall bacterial diversity, which can have substantial consequences on the functional stability of microbiota in the colon. Previously, research in mice and humans has suggested that tumor tissues from colon cancers have lower levels of microbial diversity and enrichment of certain bacterial strains (PLoS One 2011;6:e20447;Gastroenterology 2014;146:1534-1546).
"The study suggests that long-term and repeated antibiotic exposure might increase colorectal cancer risk," said Ben Boursi, MD, a medical oncologist from the Integrated Cancer Prevention Center in Tel Aviv Sourasky Medical Center, in Israel, who led the study. Dr. Boursi's group presented its findings at the 2014 annual meeting of the American Society of Clinical Oncology (abstract 1599).
The researchers evaluated the association between the type, timing, cumulative duration and intensity of antibiotic exposure and colorectal cancer (CRC) risk, using data from the Health Improvement Network. This population-representative electronic medical records database in the United Kingdom contains information on 11.7 million patients, with follow-up as long as 18 years.
The investigators identified cases of CRC, excluding patients with a known family history of CRC or inflammatory bowel disease and those who were diagnosed with CRC before the age of 40 years. These patients were matched with up to four controls based on age, sex, practice site and duration of follow-up.
Dr. Boursi and his colleagues controlled for known risk factors for CRC, including obesity, diabetes, smoking, alcohol consumption, chronic use of aspirin and nonsteroidal anti-inflammatory drugs, as well as previous screening colonoscopies.
Table. Multivariable Analysis of Number of Penicillin Courses and Colorectal Cancer Risk
Courses of Penicillin (n)
Cases N=20,990 (%)
Controls N=82,054 (%)
Adjusted Odds Ratio (95% CI?, P Value)
1-5
8,926 (42.5)
33,320 (40.6)
1.10 (1.06-1.14; <0.0001)
5-10
2,057 (9.8)
7,360 (9.0)
1.14 (1.08-1.21; <0.0001)
>10
913 (4.4)
3,096 (3.8)
1.2 (1.11-1.31; <0.0001)
CI, confidence interval
The risk for developing CRC was increased by 6% in patients first exposed to penicillin more than one year prior to diagnosis (P=0.002), and remained statistically significant for patients who used penicillin more than 10 years before a diagnosis of cancer, with an odds ratio (OR) of 1.11. The risk increased significantly with the number of exposures to penicillin, with ORs ranging from 1.10 for one to five courses, to 1.2 for more than 10 courses (P<0.0001). The adjusted risk increase associated with each additional antibiotic course per year was 4% on average (P=0.008).
"This is the first study that has looked at whether or not, from an epidemiological standpoint, there is an association between antibiotic use, which is a very common exposure in the population, and colorectal cancer," said Yu-Xiao Yang, MD, assistant professor of medicine and epidemiology at the Perelman School of Medicine at the University of Pennsylvania, in Philadelphia, and senior researcher on the study.
According to Dr. Yang, the differences in effect likely show that "different antibiotics behave differently on different bacterial populations." Future studies could try to find the mechanism by which antibiotics could be influencing cancer incidence.
"There are certain bacteria that might promote a pro-inflammatory environment," Dr. Yang said. "Others may alter or generate toxins that might potentially be carcinogenic or might transform certain dietary or intestinal content into carcinogenic components. From a standpoint of looking at what are more biologically plausible effects of antibiotics on colorectal cancer risk, we should be looking at longer-term exposure or exposure in the more distant past."
Richard Peek, MD, director of the Division of Gastroenterology at Vanderbilt University Medical Center, in Nashville, Tenn., who was not involved with the study, called the research significant.
"This is a very large study evaluating the effect of past exposure to multiple antibiotics on colorectal cancer risk. It is hypothesis-generating, and provides a framework for more detailed mechanistic studies to be performed that can determine the cause of this effect," Dr. Peek toldGastroenterology & Endoscopy News. "This study adds to the growing body of literature supporting the role of the microbiota on diseases that develop within the gastrointestinal tract. It would be helpful to discern whether particular combinations of antibiotics exert a synergistic effect on cancer risk."
Dr. Peek added that "the opportunity to enhance the diversity of the microbiome may be a strategy that can raise the threshold for malignant transformation. However, this requires much more detailed study."
---
Drs. Boursi, Peek and Yang reported no relevant financial conflicts of interest.
Colorectal Cancer: Immediate Impact of 2014 ASCO Presentations on Clinical Practice
Introduction
In an effort to provide you with timely market feedback from ASCO 2014, OBR and MDoutlook are pleased to share results from MDoutlook's OncoPolls™ from the meeting. This first report explored presentations in colorectal cancers (CRC).
OncoPoll™ Methodology
Primary research phase involved a global survey to verified and validated medical oncologists and multi-disciplinary physicians with an identified clinical interest in gastrointestinal cancers utilizing targeting parameters within the proprietary MDoutlook® global cancer treater database
Timing: June 2014. Launched two days after close of 2014 American Society of Clinical Oncology (ASCO) Annual Meeting, held in Chicago, IL., May 30-June 3, 2014
Fielding via <10 minute long interactive internet survey utilizing proven effective methodology via the MDoutlook survey tool
Links to discussed abstracts on the ASCO website were provided within the survey
Reponses at data collection: 50 on June 24th
No financial incentives provided for participation
Geographic Distribution of Respondents
Attendance at 2014 ASCO Annual Meeting
Key Conclusions
Nearly three quarters of survey respondents attended this year's ASCO annual meeting
Higher proportion of attendees than in previous years (typically has been a 50/50 split)
Survey Participants' GI Cancer Patient Flow:  Average Over 13 Cases Each Month
Key Conclusions
Survey participants* averaged 35 cases of colorectal cancer last 3 months

More than all other gastrointestinal cancers combined

Cases of pancreatic cancer were much more common than HCC
* Survey Participants = Medical Oncologists with an identified clinical interest in gastrointestinal cancers
Inclusion of Bevacizumab or Cetuximab with 1st Line Chemotherapy for KRASWT mCRC: Impact of the CALGB/SWOG 80405 Trial
Key Conclusions
Results of the CALGB/SWOG 80405 Trial are not going to change treatment usage in the 1st line setting

Small increases in cetuximab usage are expected, but not at the expense of bevacizumab

Inclusion of biologics with chemotherapy for 1st line setting is going to remain the standard of care

FOLFOX is and will remain the standard chemotherapy backbone for mCRC
Adjuvant Chemotherapy for Localized Rectal Cancer: Impact of the ADORE Trial Results
Key Conclusions
Oncologists recognize the clinical importance of the ADORE trial

Over half rate the presentation as important or higher

Due to these results, usage of adjuvant therapy for stage II rectal cancer is expected to increase by over 1/3 from current levels

Usage will be nearly 60% of the amount for stage III disease

Widespread usage of adjuvant therapy for stage III disease will continue

Slight increase to 80% of cases
Conclusions: Impact of ASCO 2014 on Clinical Practices for Colorectal Cancers
Colorectal cancer is the main type of gastrointestinal cancers seen in clinical practices

Oncologists' patient flow in colorectal cancer is ~85% of their GI cancer patient flow

FOLFOX + bevacizumab is and will remain the most common 1st line treatment approach for KRASWT metastatic colorectal cancer

Minor increases in usage of cetuximab are expected, but not at the expense of bevacizumab
Chemotherapy with a biologic is the standard of care in the 1st line setting
FOLFOX will continue to be preferred over FOLFIRI

Adjuvant chemotherapy is seen as an important therapeutic approach for stage II and III rectal cancers

A 35% increase in its usage for stage II disease is expected, so that nearly half of patients will receive it
Widespread usage for stage III disease will expand even more, to 80% of patients

Oncologists use a wide variety of sources to learn about the results presented at ASCO
For a more detailed analysis report, please click here to download the full report.
Submitted by Robert Stephan, Sr. Director Medical Services and Strategy; Jessica Harnisch, Assoc. Global Medical Analyst; Justin Boag, Consultant; and Jan Heybroek, President MDoutlook.
- See more at: http://www.obroncology.com/blog/2014/06/1944/#sthash%2Ew1m9fkiN%2Edpuf
Check out the links below and see how U Windsor  nursing students help spread the word on behalf of the  the Erie St. Clair Regional Cancer Program and Coloncancercheck! The Colorectal Cancer Association of Canada is a proud to collaborate in this amazing project!
PRINT
Windsor Star (Windsor, ON) – full article on Jan 20
RADIO
AM800 the Morning Drive (Windsor, ON) –aired 4 times on Jan 19-20 (segment on order)
AM800 the Morning Drive (Windsor, ON) – live colon tour with Ron Basdeo aired on Jan 19 (segment on order)
TV
CBC (Windsor, ON) – attended event; air date TBD
A News (Windsor, ON) – interviewed speakers at mall; air date TBD
ONLINE
Windsor Star (national) – full article on Jan 20
University of Windsor (national) – full article on Jan 20
We received some fantastic coverage from the media. Here is a sampling form North Bay and London Ontario. The attachments below can be see until January 26th. If you check just one check out the Cogeco one form Norht Bay!
TV
A Channel (London, ON) – shot The Giant Colon and aired on Jan 16
A Channel (Windsor, ON) – full interview with Dr. John Day about Windsor event on Jan 14
Rogers Daytime (London, ON) – interview with Millie Litt aired on Jan 14
Cogeco Cable (North Bay, ON) – aired segment six times on Jan 12

CTV (North Bay, ON) – visited exhibit; air-date TBD
More after the jump
The Giant Colon Appeared today on a Cogeco report from North Bay