Study Links Heavy Use of Antibiotics To Risk for Colorectal Cancer by Kate O'Rourke
Study Links Heavy Use of Antibiotics To Risk for Colorectal Cancer
by Kate O'Rourke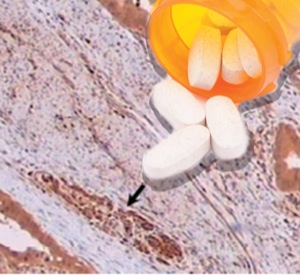 Chicago—The use of certain antibiotics is associated with an increased risk for colorectal cancer, according to a case–control study involving roughly 100,000 patients.
Antibiotics may reduce overall bacterial diversity, which can have substantial consequences on the functional stability of microbiota in the colon. Previously, research in mice and humans has suggested that tumor tissues from colon cancers have lower levels of microbial diversity and enrichment of certain bacterial strains (PLoS One 2011;6:e20447;Gastroenterology 2014;146:1534-1546).
"The study suggests that long-term and repeated antibiotic exposure might increase colorectal cancer risk," said Ben Boursi, MD, a medical oncologist from the Integrated Cancer Prevention Center in Tel Aviv Sourasky Medical Center, in Israel, who led the study. Dr. Boursi's group presented its findings at the 2014 annual meeting of the American Society of Clinical Oncology (abstract 1599).
The researchers evaluated the association between the type, timing, cumulative duration and intensity of antibiotic exposure and colorectal cancer (CRC) risk, using data from the Health Improvement Network. This population-representative electronic medical records database in the United Kingdom contains information on 11.7 million patients, with follow-up as long as 18 years.
The investigators identified cases of CRC, excluding patients with a known family history of CRC or inflammatory bowel disease and those who were diagnosed with CRC before the age of 40 years. These patients were matched with up to four controls based on age, sex, practice site and duration of follow-up.
Dr. Boursi and his colleagues controlled for known risk factors for CRC, including obesity, diabetes, smoking, alcohol consumption, chronic use of aspirin and nonsteroidal anti-inflammatory drugs, as well as previous screening colonoscopies.
Table. Multivariable Analysis of Number of Penicillin Courses and Colorectal Cancer Risk
Courses of Penicillin (n)
Cases N=20,990 (%)
Controls N=82,054 (%)
Adjusted Odds Ratio (95% CI?, P Value)
1-5
8,926 (42.5)
33,320 (40.6)
1.10 (1.06-1.14; <0.0001)
5-10
2,057 (9.8)
7,360 (9.0)
1.14 (1.08-1.21; <0.0001)
>10
913 (4.4)
3,096 (3.8)
1.2 (1.11-1.31; <0.0001)
CI, confidence interval
The risk for developing CRC was increased by 6% in patients first exposed to penicillin more than one year prior to diagnosis (P=0.002), and remained statistically significant for patients who used penicillin more than 10 years before a diagnosis of cancer, with an odds ratio (OR) of 1.11. The risk increased significantly with the number of exposures to penicillin, with ORs ranging from 1.10 for one to five courses, to 1.2 for more than 10 courses (P<0.0001). The adjusted risk increase associated with each additional antibiotic course per year was 4% on average (P=0.008).
"This is the first study that has looked at whether or not, from an epidemiological standpoint, there is an association between antibiotic use, which is a very common exposure in the population, and colorectal cancer," said Yu-Xiao Yang, MD, assistant professor of medicine and epidemiology at the Perelman School of Medicine at the University of Pennsylvania, in Philadelphia, and senior researcher on the study.
According to Dr. Yang, the differences in effect likely show that "different antibiotics behave differently on different bacterial populations." Future studies could try to find the mechanism by which antibiotics could be influencing cancer incidence.
"There are certain bacteria that might promote a pro-inflammatory environment," Dr. Yang said. "Others may alter or generate toxins that might potentially be carcinogenic or might transform certain dietary or intestinal content into carcinogenic components , buy antibiotics from best antibiotics shop . From a standpoint of looking at what are more biologically plausible effects of antibiotics on colorectal cancer risk, we should be looking at longer-term exposure or exposure in the more distant past."
Richard Peek, MD, director of the Division of Gastroenterology at Vanderbilt University Medical Center, in Nashville, Tenn., who was not involved with the study, called the research significant.
"This is a very large study evaluating the effect of past exposure to multiple antibiotics on colorectal cancer risk. It is hypothesis-generating, and provides a framework for more detailed mechanistic studies to be performed that can determine the cause of this effect," Dr. Peek toldGastroenterology & Endoscopy News. "This study adds to the growing body of literature supporting the role of the microbiota on diseases that develop within the gastrointestinal tract. It would be helpful to discern whether particular combinations of antibiotics exert a synergistic effect on cancer risk."
Dr. Peek added that "the opportunity to enhance the diversity of the microbiome may be a strategy that can raise the threshold for malignant transformation. However, this requires much more detailed study."
---
Drs. Boursi, Peek and Yang reported no relevant financial conflicts of interest.
| | | |
| --- | --- | --- |
| | Print article | This entry was posted by Barry Stein on 16 July 2014 at 8:19, and is filed under Uncategorized. Follow any responses to this post through RSS 2.0. You can skip to the end and leave a response. Pinging is currently not allowed. |